This page is a partial list of area dressage instructors. If you are an instructor or know of an instructor that would be interested in having their name on this page, please contact Michele at snc-cds@charter.net

Contact Feather at feathertouchranch@gmail.com; Phone 775-629-9122; or visit the website feathertouchranch.wordpress.com

Biography

Victoria Cliff started her riding career at 2 years of age. She worked on a rent string in Mesa Verde National park for 2 years from ages 5-7. Her duties included tacking/ un-tacking and graining horses at lunch.
At 11, she got her first horse, Sheba. She is the reason Vicki is a trainer. Sheba taught her a lot. They placed high in the Calif. State Horsemen for Gymkhana in 1968. They then went on to be a top-notch endurance team. They won the coveted Haggin Cup for Best Condition in 1970, on the Western States 100 Mile Ride (Tevis Cup).
It was 1970 when she started riding dressage with Liz Searle and Jeff Moore. In 1971, Vicki apprenticed with Mr. Beve Franklyn, primarily an Arab trainer, but he had spent 2 years at the Spanish Riding School in Vienna on an Indian Grant in his youth. He taught Vicki how to improve any horse at any discipline through dressage.
Most of Vicki's horses she has trained from the ground up. The highest level she has attained is Intermediare. She holds both the U.S.D.F. Bronze and Silver medals and is a member of the Association of Professional Trainers and Instructors (APTI) through CDS.
What level of riding instruction do you teach?

Beginning through Intermediare, including Freestyle Design.
Do you offer training?

Limited training - Specializing in teaching students how to train their horse.
Where do you teach/train?

Owner and Manager of:
Equest Training Center
805 Washoe Drive.
Carson City, Nevada 89704
How may you be contacted?

Phone: (775) 849-0105
Fax: (775) 849-8586
Email: equest_1@yahoo.com
Lesson fee?

1-hour Private - $45/hr
Package of ten - $400
Semi-Private (1-hour; 2 people) - $40/hr
Semi-Private Package of 10 - $350
Training fee?

$650/month (includes board).
$50/hour
Additional information

Victoria Cliff has been professionally instructing and training for 32 years. She has worked with most breeds and disciplines. She stresses safety and likes to see her students progress in whatever discipline(s) they choose.

Biography:

Beth is a USDF Silver Medalist and has won several USDF Year End Annual Awards. Beth is also a graduate "A" pony clubber.
Originally from the east coast, Beth competed in eventing as a junior and young adult in Area 1 and 2. During this time, she qualified for the various national preliminary and junior 3-day championships each year and was lucky enough to ride some really great jumping horses. She has started more horses than she can count and has brought quite a few up from cross rails to the training and preliminary levels of eventing.

Beth's early riding was directed by Olympic Gold Medalist Tad Coffin, USEF coach Jack LeGoff, and USDF certified instructor Sarah Geikie. Today, Beth rides regularly with Volker Brommann and Michael Etherly, clinicing with top trainers including USEF team rider Stefan Peters and USEF Young Horse Coach Scott Hassler.

What level of riding instruction do you teach?

Beth teaches beginner riders through competitive levels of eventing and dressage. She prefers teaching clients on their own horses. Her clientele includes young children and adults.
Do you offer training?

Beth does take in horses for long and short-term training. She feels her particular strengths are in re-schooling poorly trained and difficult horses. She enjoys teaching them their job and building up their egos so they can perform their job successfully and with pride.
Where do you teach/train?

Owner and manager of:
Southern Cross Stables
Mt Rose Highway in Reno, NV.
How may you be contacted?

775-849-0136

E-Mail: curle@mindspring.com
Lesson fee?

Private-$55/hr
Training fee?

$55/ride plus board/monthly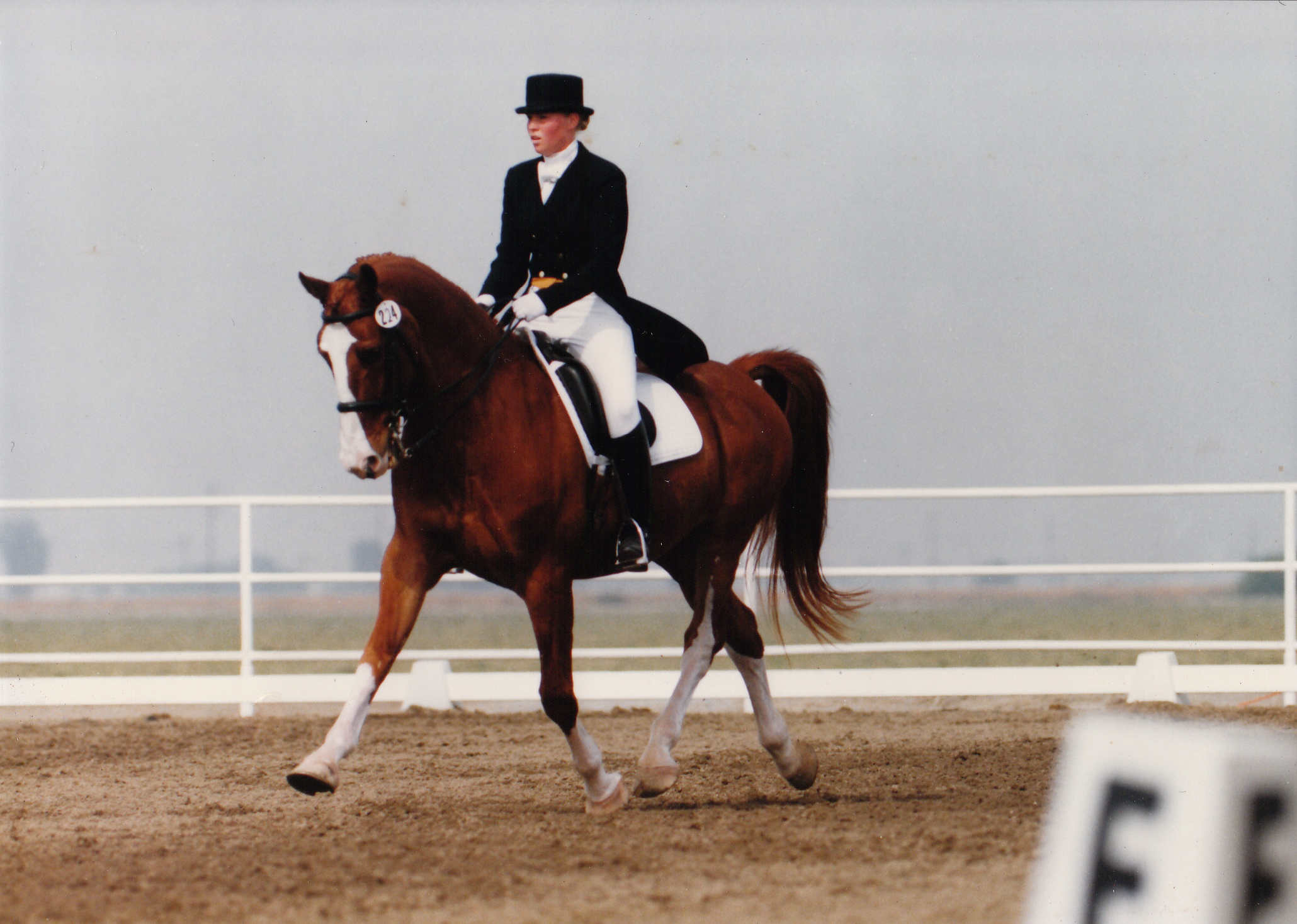 Stacee Collier is a Bronze and Silver Medalist and has won several CDS and USDF year end awards and championships from First Level up to Prix St George, with a dressage career starting at age 12. Before starting her dressage career Stacee showed in Arabian horse shows and Endurance Riding. Once Stacee discovered dressage and the challenges of riding and training horses to the advanced levels, she was hooked.
Stacee was a working student for J Ashton (Jeff) Moore and Elizabeth Searle from 1994-1996. While working for them she was able to assist in the training of weanlings to Grand Prix horses. She rode between 10-13 horse a day, and was able to show many of them, including "Vosmaer" a Dutch Stallion (that had been Gelded) in Young Riders. She was alternate for the the 1996 Region 7 Young Rider team.
She has also worked with the Baron Hans Von Blixen-Finecke, Scott Hassler, Michael Etherly, and Chelsey Sibley. She still works regularly with Jeff Moore.
After young riders, Stacee traveled for several years, and took a break from showing. In her travels she ended up in Alaska for a while and worked with several horses while there. While working with different horses and owners in all the different environments, she learned the importance of really listening to the horse. Her main goal now is to have a happy horse and rider combo. She wants horses and owners to truly enjoy themselves. That is the point of riding!
You can reach Stacee via email or phone for availability and prices.
staceecollier@hotmail.com or 775-351-8093.For more information please visit www.companionfarm.com

Biography
In a career that has spanned over 40 years with horses, Shelley Edwards has trained with such great horseman as Jimmy Williams, Sidley Payne, Debbie Spence, Brian Sabo, and currently, J. Ashton Moore.
As a junior and for several years as an amateur, she rode with Jimmy Williams at Flintridge Riding Club riding and showing hunters and jumpers.
For several years as an amateur and professionally, she worked with feral horses in New Mexico, re schooled thoroughbred horses off the track and learned about the ranch life at a working cattle and dude ranch.
She has cliniced with Ray Hunt, Don Burt, Baron Hans von Blixen-Finecke and many others.
Jimmy Williams had always used "dressage gymnastics " in his training and with his influence Shelley's interest in dressage peeked at an early age. For over the last 20 years, dressage has been her primary focus in riding, training and education.
For the past 10 years, she has been fortunate enough to train with J. Ashton (Jeff) Moore, Liz Searle and Laurel Bruun. The emphasis in developing horses and riders is approached through an understanding of horse and rider biomechanics or how the muscles move the bones in order to produce movement of the horse under the influence of the rider. This approach also incorporates how the horse thinks as well as how he moves.
Shelley's focus is developing riders and horses using the understanding of biomechanics. For any rider in any discipline, the ability to control ones own body in order to influence the body of the horse is paramount. Otherwise, the ability of the horse to perform is compromised. Understanding how your own body works helps you become a rider rather than a passenger. Understanding how the horse's body performs allows the rider to encourage rather than demand performance.
Shelley teaches and trains in Carson Valley and Smith Valley.
What level of riding instruction do you teach?
Basic beginning riding through Prix St. George, ages 6 years through adult
Do you offer training?
Yes
Where do you teach/train?
In Carson Valley at Galena Farms, and private homes.
In Smith Valley at private homes.
Will travel to conduct clinics
How may you be contacted?
In the evenings or early mornings at 775-465-2272
Training and Lesson Fees:
Training: $400.00 per month plus board
Lessons: $45.00 per lesson, $50.00 per lesson on a school horse
Clinic Fee: $350.00 per day plus expenses (8 ride maximum)
Available to conduct two day Rider Bio mechanic courses.

Biography:
Cassandra has a B.S. in Animal Science and is a graduate of Meredith Manor International Equestrian Institute.
She has been a barn manager and riding instructor at an eventing barn in California and an assistant instructor in a riding program at a private school in California. She has competed extensively at lower level eventing and up to third level dressage. She holds a U.S.D.F. bronze medal. She has started and trained all but one of her horses herself.
What level of riding instruction do you teach?
Cassandra has spent many years introducing people to the concepts of Dressage and the Training Scale, using both to improve their horses no matter what their ultimate endeavor. She is willing to take on any student highly motivated to improve their riding and communication skills with their horse, be it for their own enjoyment or to be competitive in the show ring. With many years of competition experience behind her, she can assist riders to reach their competition goals.
Do you offer training?
Cassandra does not take horses in training, however is happy to help owners with training their own horses or dealing with problem issues on a lesson basis.
Where do you teach/train?
Owner and manager of:
Fuzzy Butt Farm
1496 Truckee Lane
Fernley, NV 89408
How may you be contacted?
Phone 775-750-7952
Email: Fzybt@att.net
Lesson Fee?
1-hour private-$40/hour
Private Lessons only
No school horses available.
Biography
Sarah Silva started her career in horses with a one-year internship at Forrest Hill Farm, a well-known Dressage facility in Lafayette, Indiana. She gained experience with breeding management, farm management, starting young horses and training some more advanced horses. From there she went on to intern with Kim and Yvonne Barteau for three summers. She had the opportunity to ride some highly trained horses at Prix St George and Grand Prix levels.
While training with the Barteaus, Sarah drastically improved both her training and teaching skills and was able to successfully train and compete to third level. In 2003, Sarah earned her bronze medal and placed in the top eight at the Region 2 Regional Championships at both second and third level.
Since moving to Winnemucca to work with Aimee Edwards Sarah has been training and showing many young horses as well as working on bringing dressage to Winnemucca!
Level of Instruction
Beginner through 3rd level. Clinics available for all ages.
Do you offer training?
Yes, horses of all levels are accepted for training.
Where to you teach/train?
In Winnemucca at Avanti Farms
Will travel for clinics
How can you be contacted?
(775) 304-4040 or skqt@yahoo.com
Training/ Lesson fee
Training: $500/ month (includes board)
Lessons: $30/ hour

Biography

Suzan Strahan is an ARICP Certified Dressage Instructor to the Advanced Level, a USDF Bronze and Silver Medalist, numerous USDF National Championship Awards for both herself and her students. Please see our website for more information, strahanstables.com
"What level of riding instruction do you teach?"

Beginners, all ages, through FEI
"Do you offer training?"

Yes!
"Where do you teach/train?"

Zephyr Farms at 3495 Lakeshore Drive in Washoe Valley, Strahan Stables and occasionally will travel other area stables.
"How may you be reached?"

775-847-7860, home; 775-233-9972, cell; strahanstables.com, website
Email: suzan@strahanstables.com
"Lesson fee?"

$60.00 on Schoolmaster
$50.00/lesson on your horse
$45.00/lesson if purchased as package of 10 lessons

"Training fee?"

$600/month Full time, plus board
$450/month Part time, plus board
Additional information
Clinics and Show coaching may also be scheduled. Suzan Strahan is a United States Equestrian Federation licensed Judge for Arabians and Western and a WPCSA approved Welsh Pony Judge.